The magic wand for natural haircare
🚚 Free shipping (delivered in 3-5 days from our warehouse in Delaware, USA)
🏆 60 Day No Risk Money Back Guarantee
View full details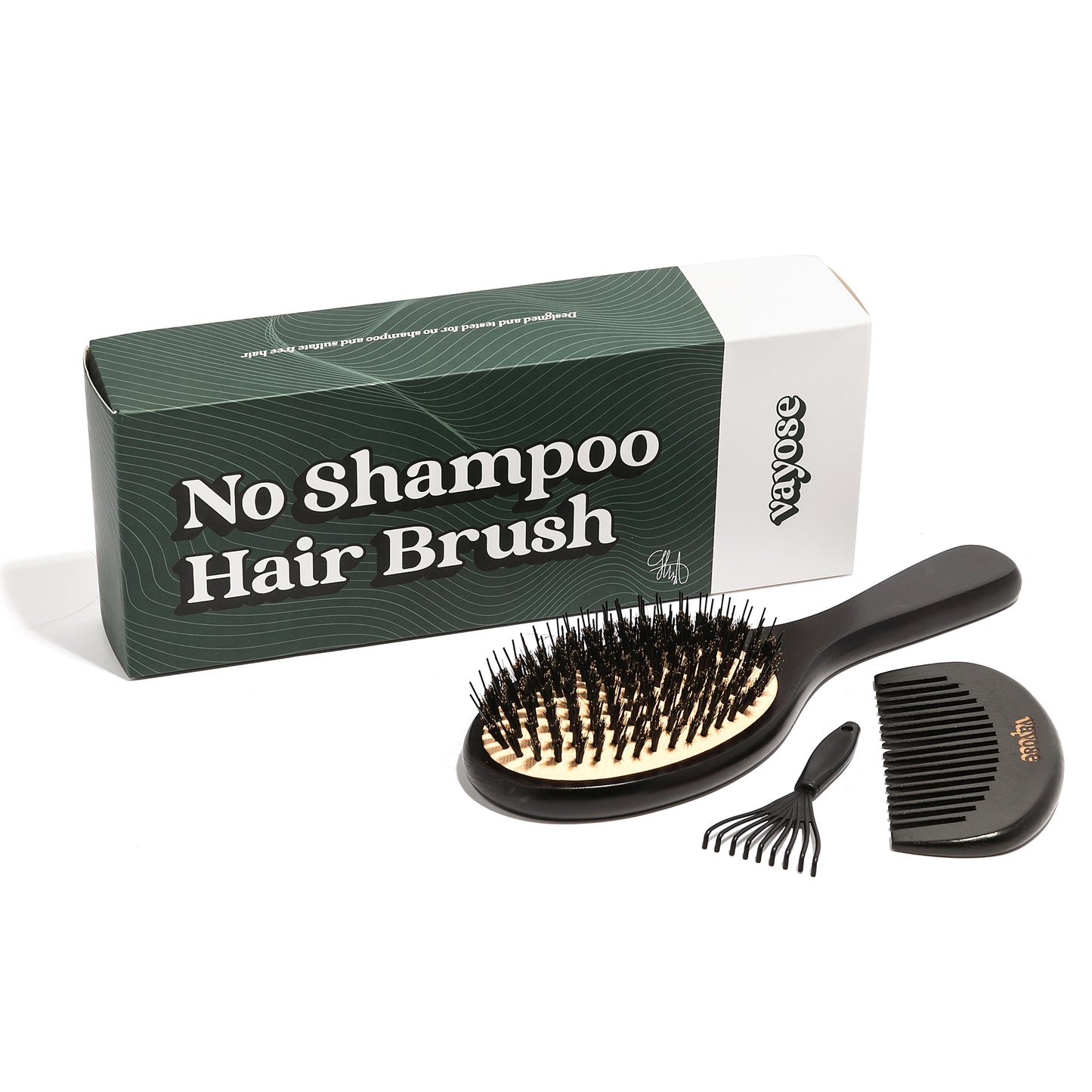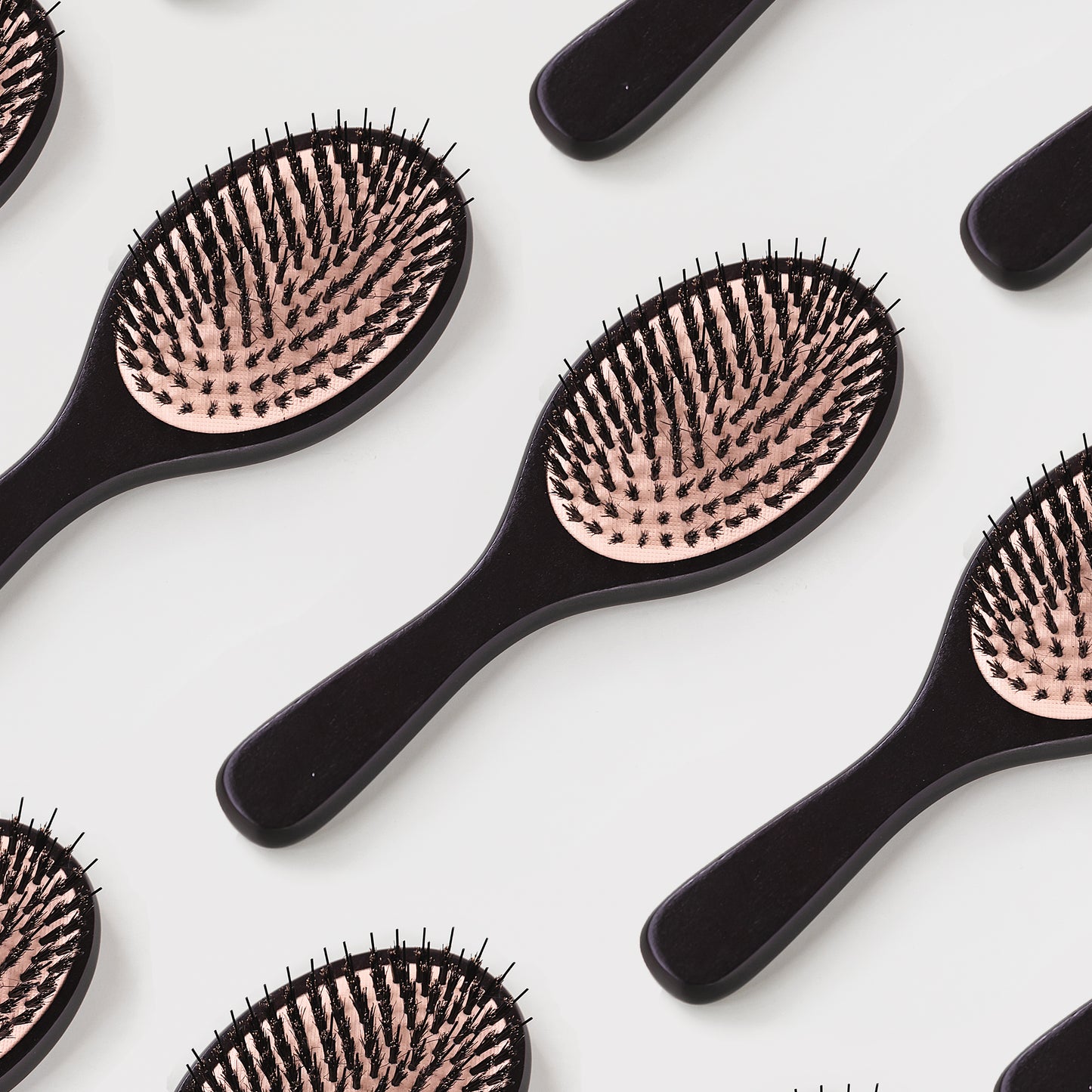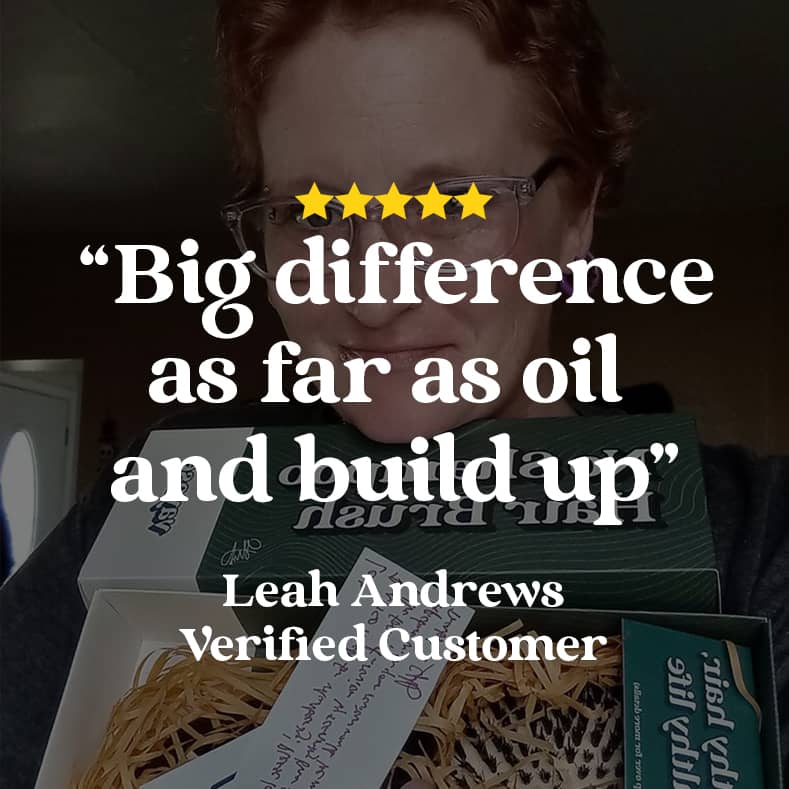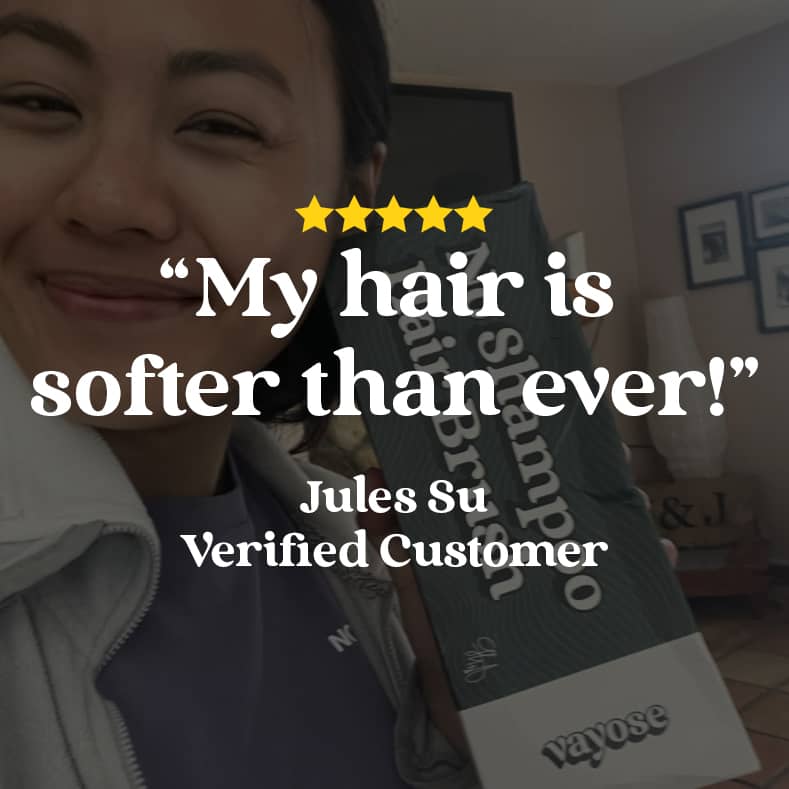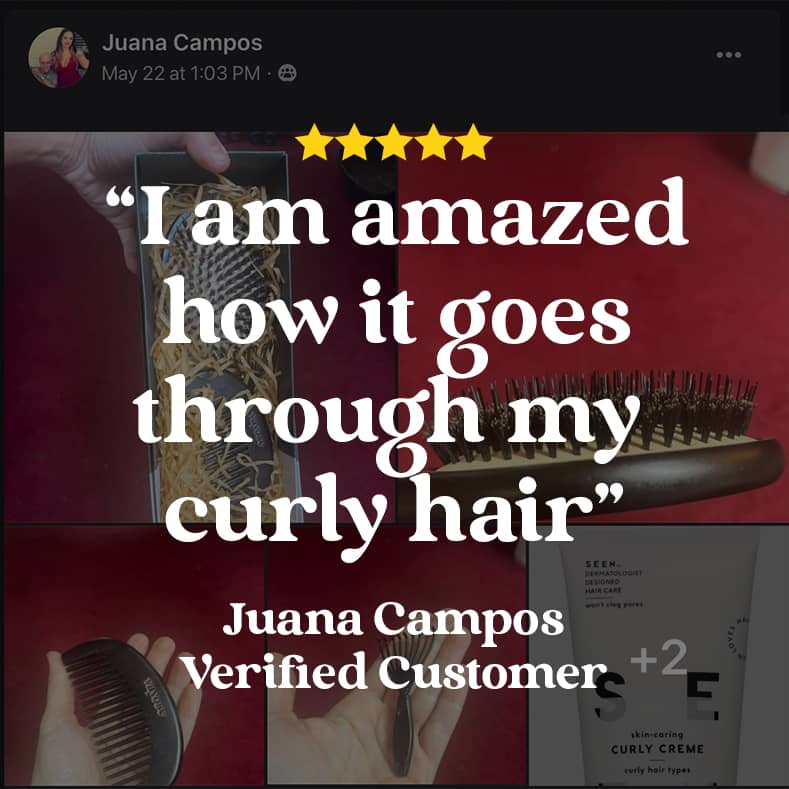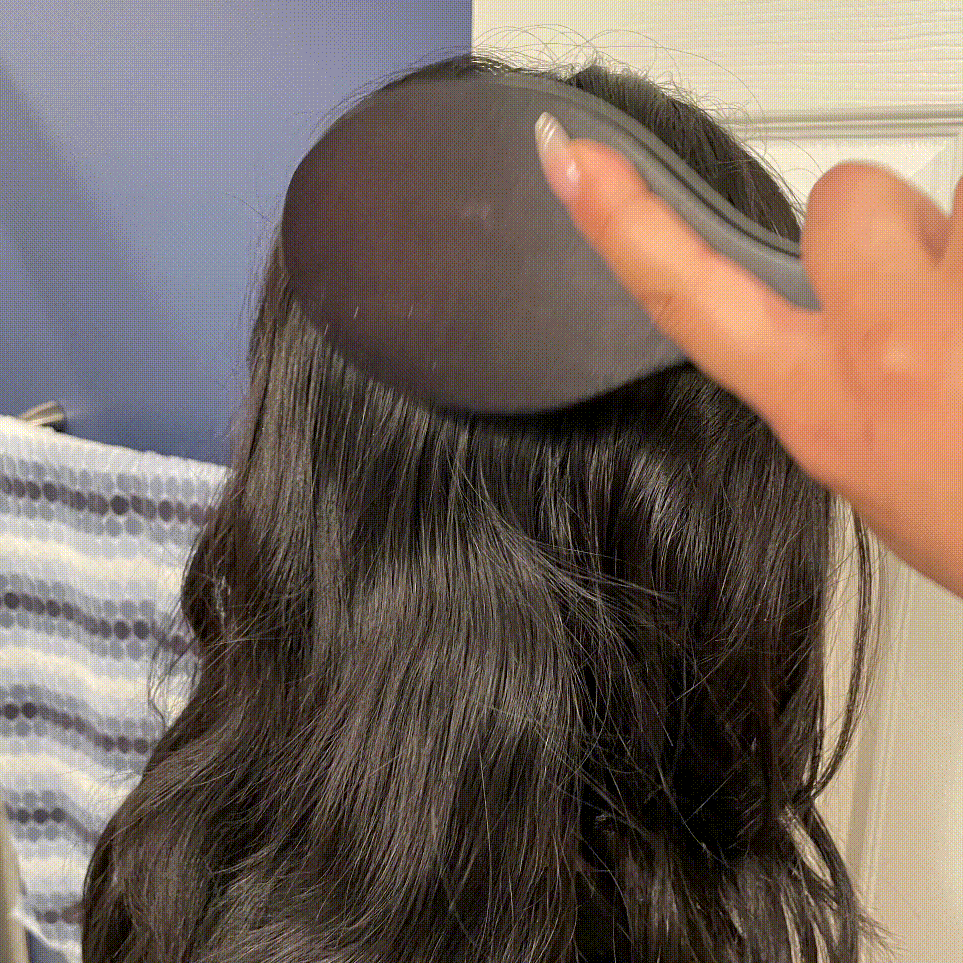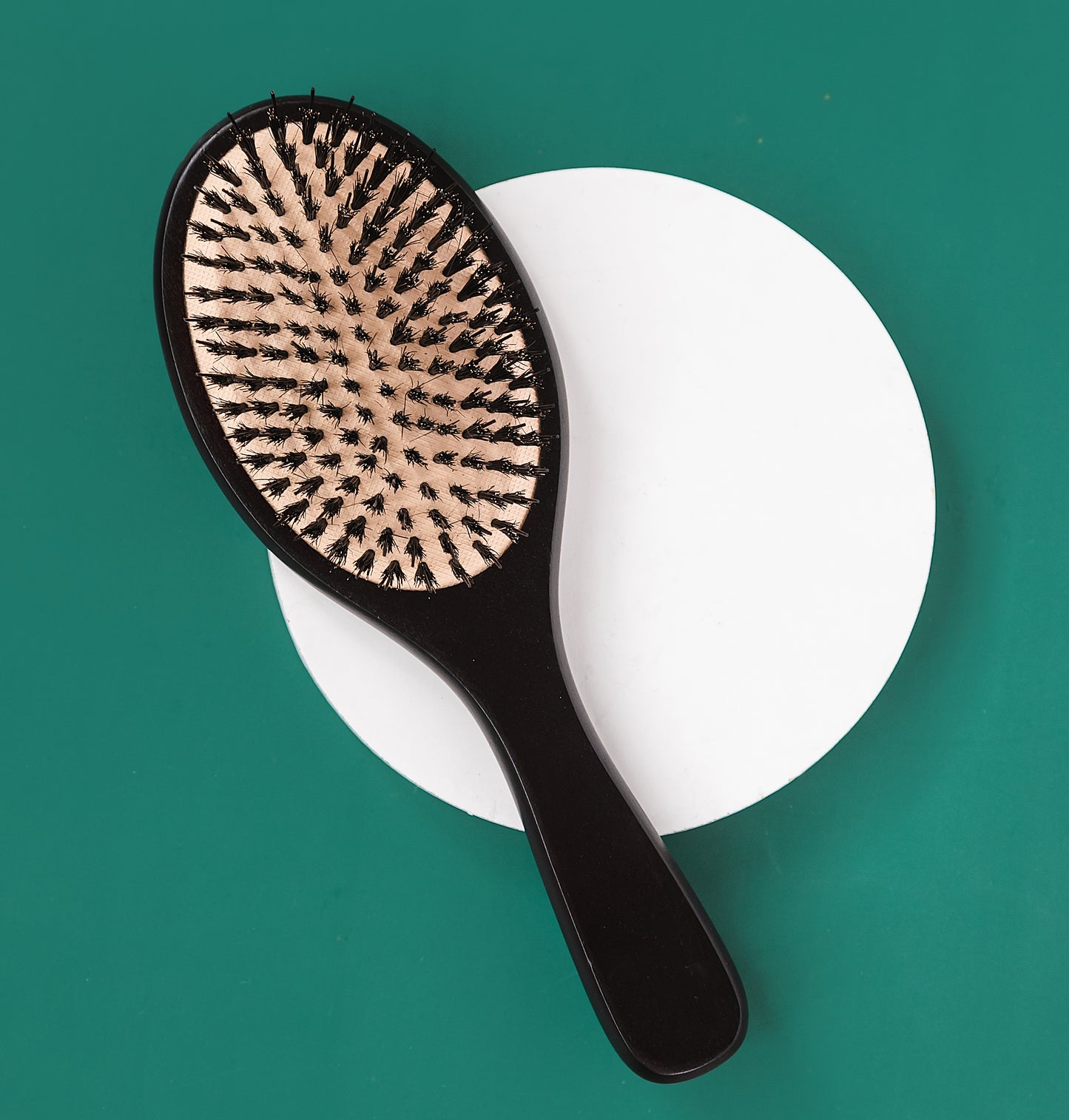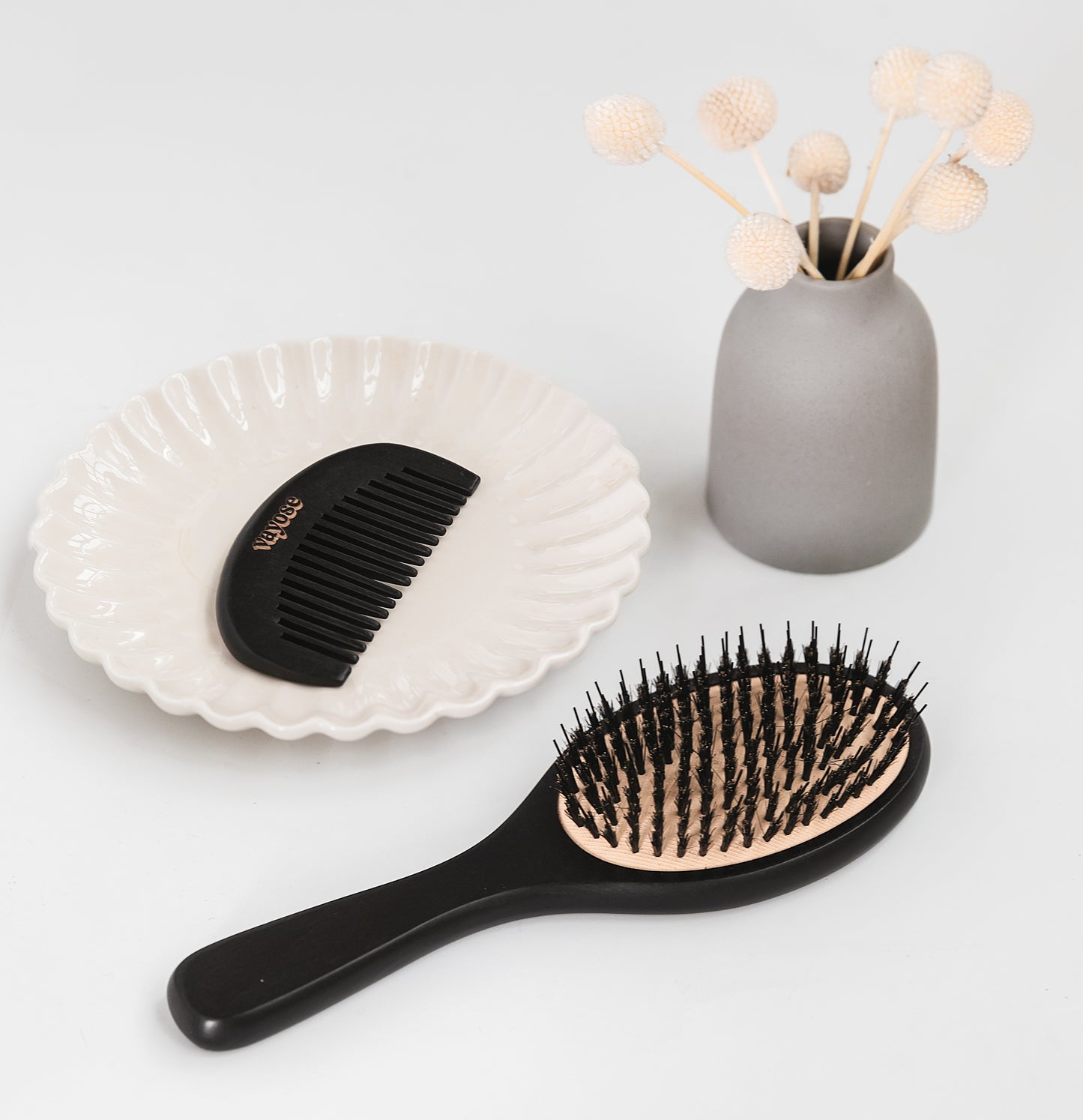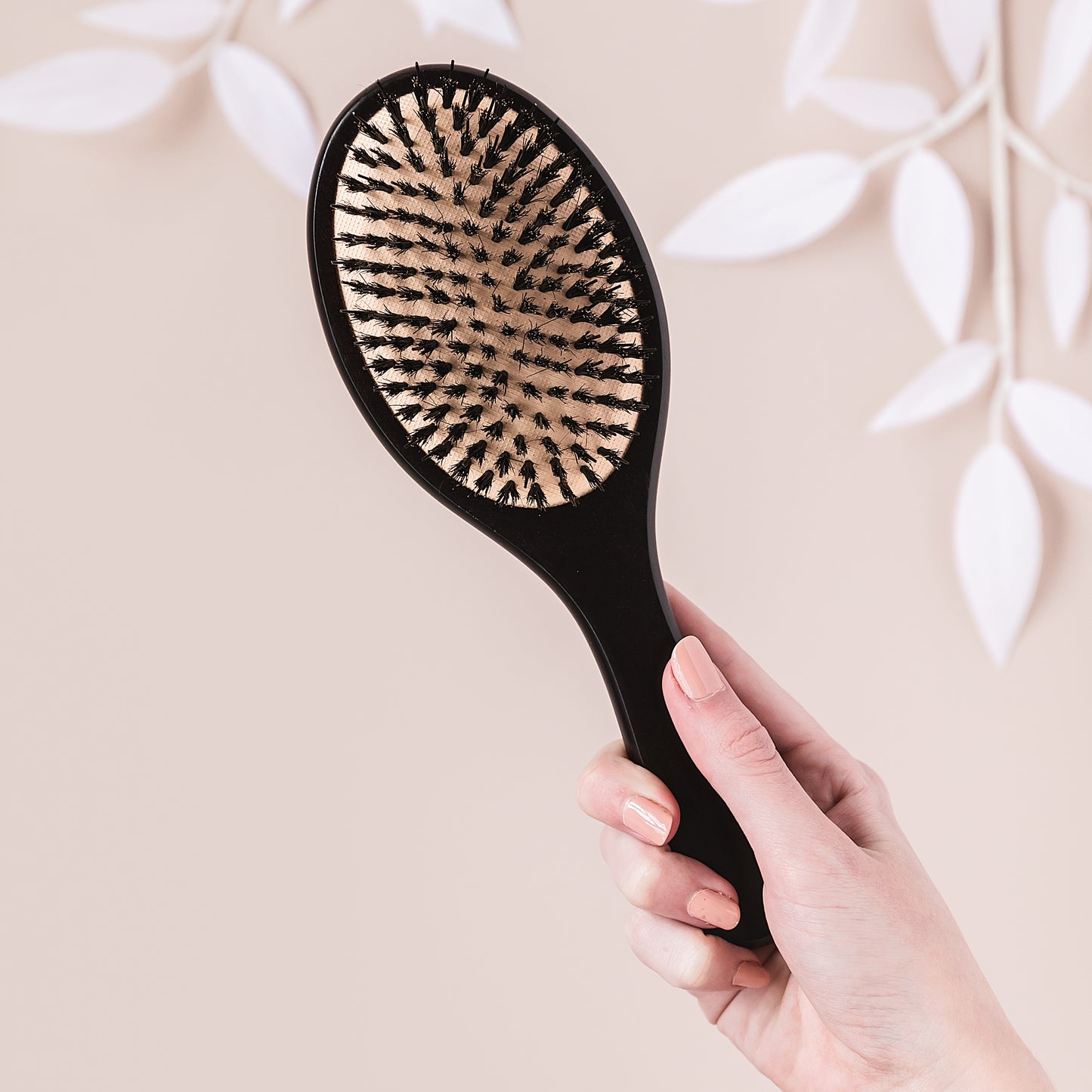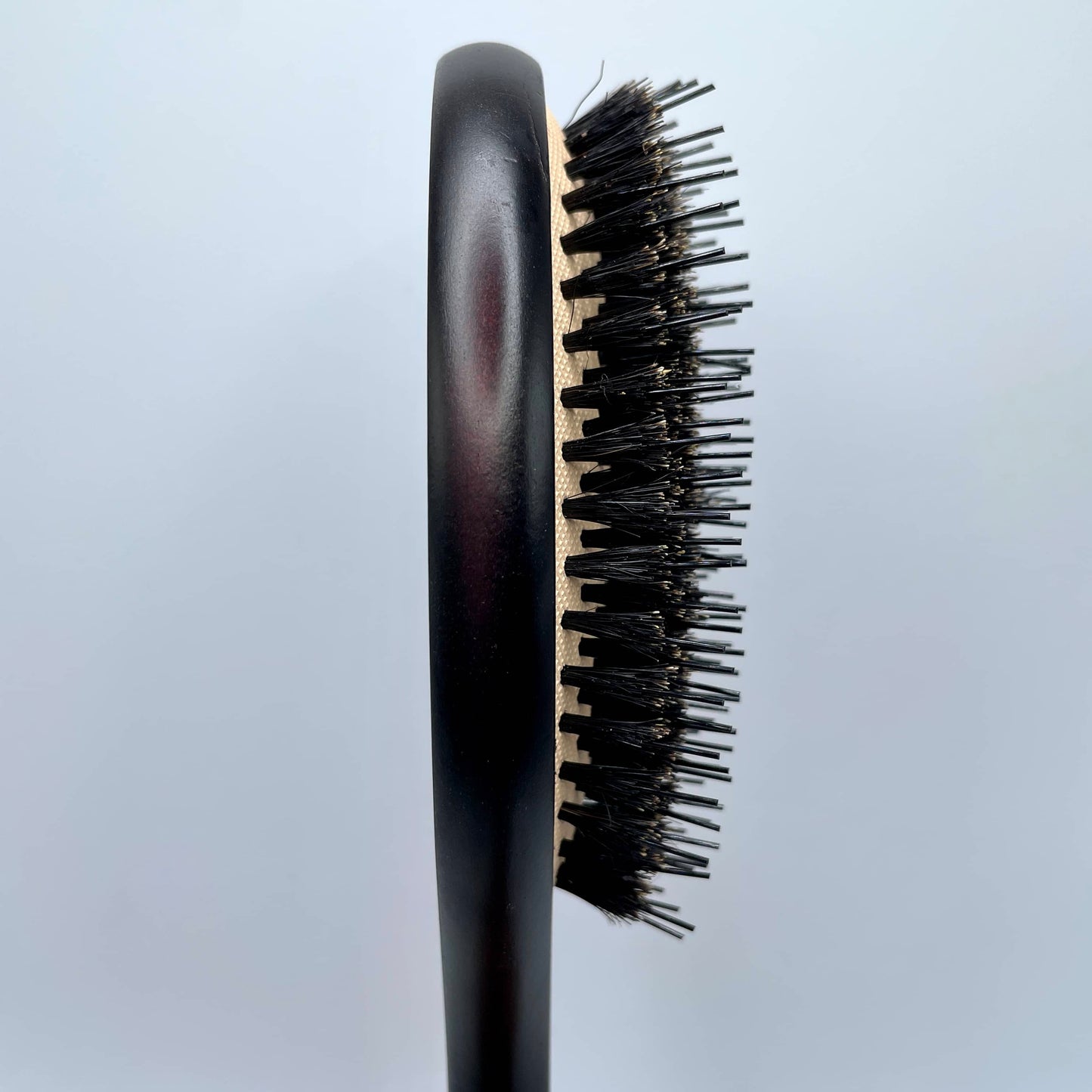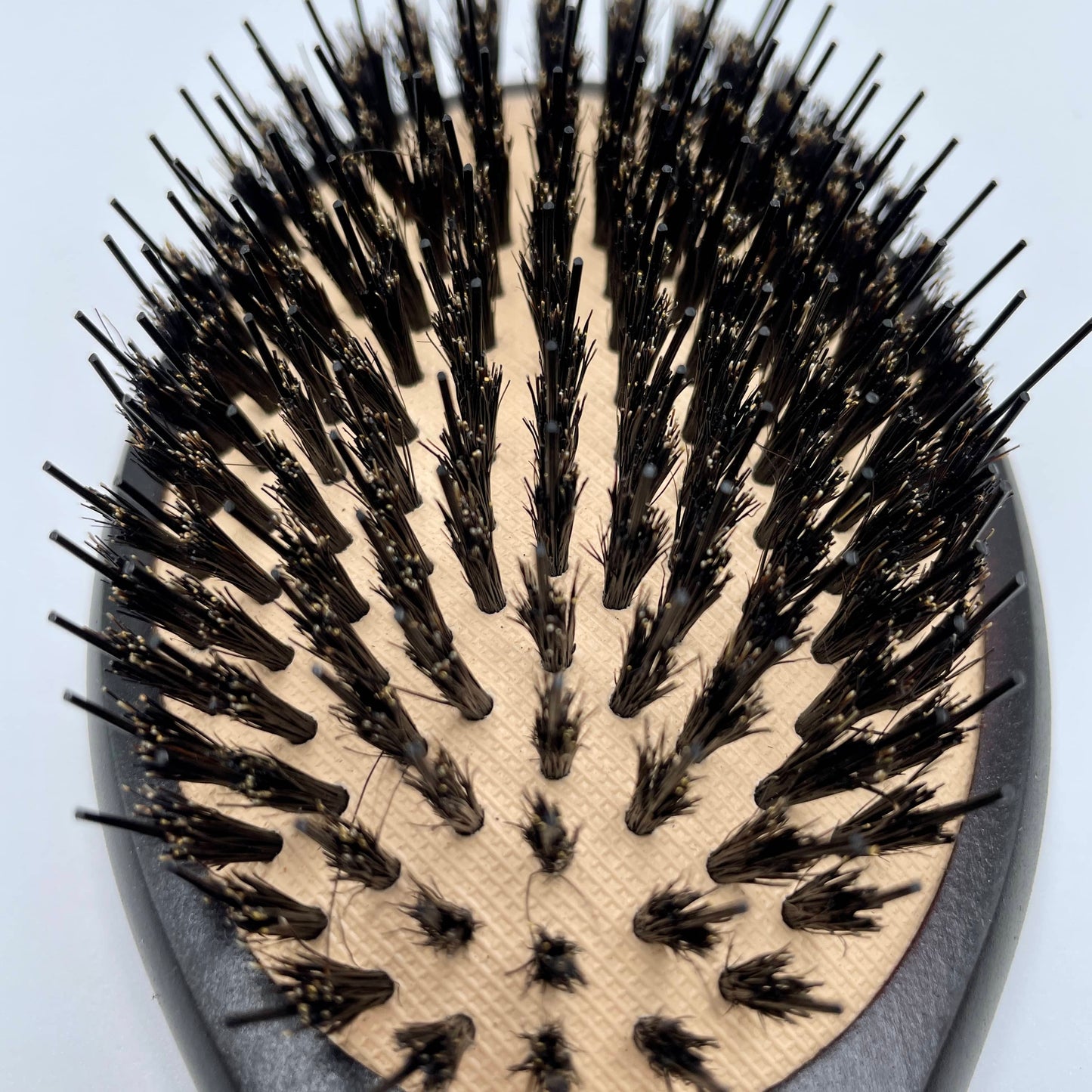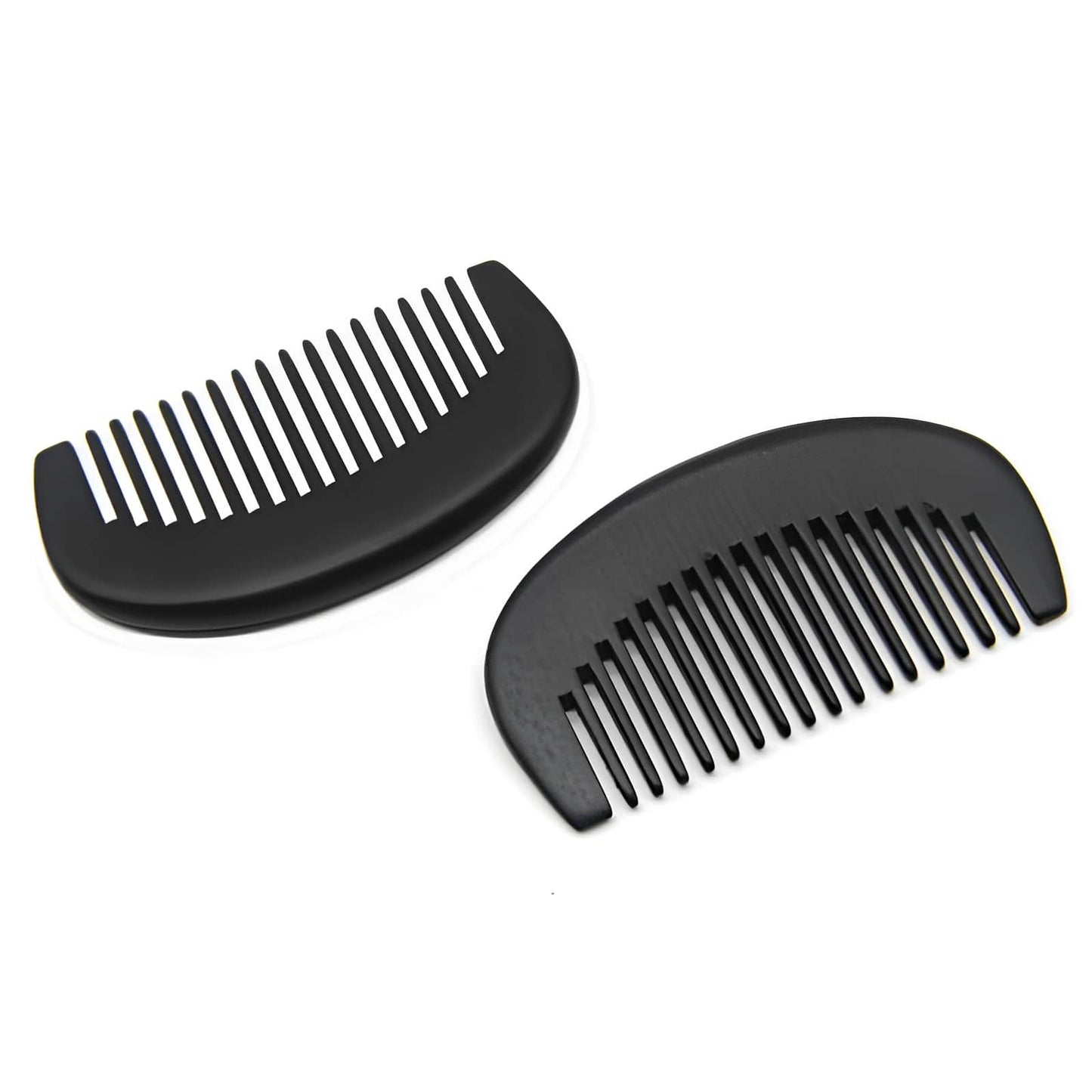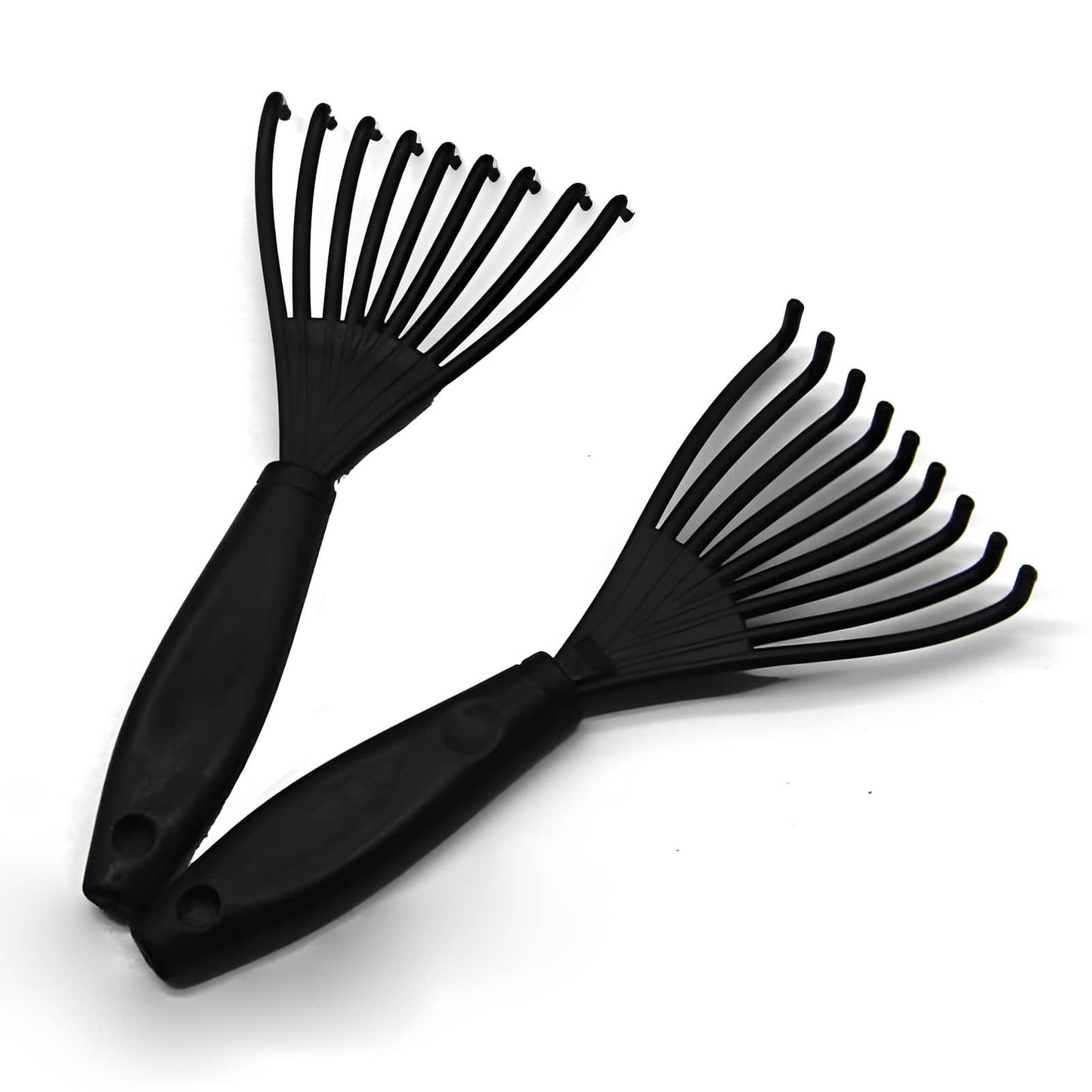 Transform your hair with no shampoo, without waiting an eternity… trusted by no shampooers across America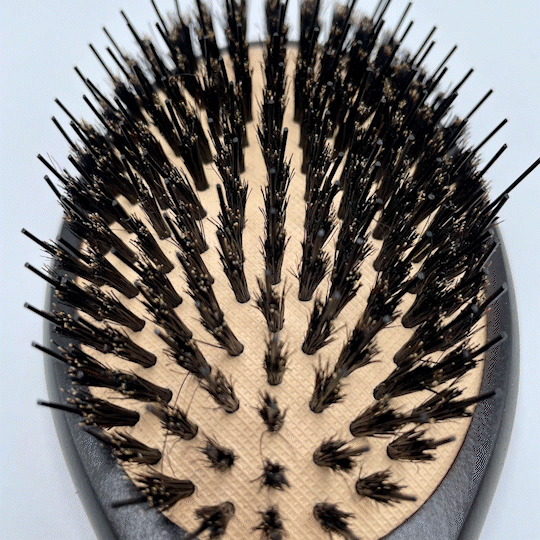 Highlights
💆‍♀️ Brings hair back to its natural state fast — Tipless bristles allow the hair and scalp to breathe, and make it easy to lift dirt and debris. This reduces the time it takes to transition from 4 months to 4 weeks.
✨ Balances oil production, prevents excess oil — Our industry leading tipless bristles and boar bristles bring oil all the way down your hair. It returns oil production levels back to where they should be.
👌 Detangle without ripping hair — Detangles your hair without making you shriek in pain. Helps keep your hair looking smooth and frizz free
❄️ Gets rid of flakes and itchiness naturally — Our innovative bristles help get rid of dandruff, scalp buildup, itchiness, and smell, all with a two minutes of brushing per day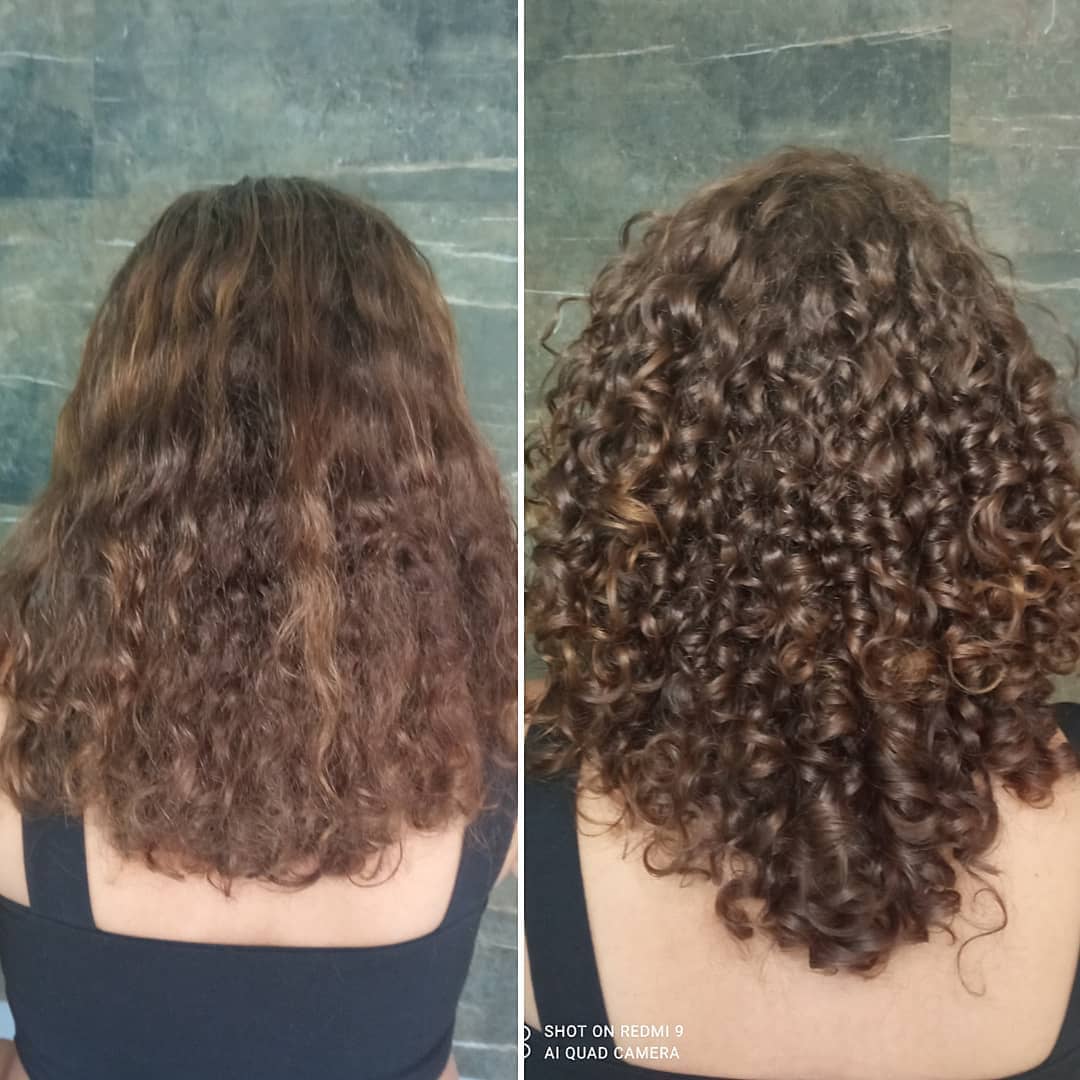 Life changing results for all hair types
The No Shampoo Hair Brush is a MUST have for anyone looking to transform their hair with no shampoo, without waiting forever to get the results.
After trying everything on the shelf, and every "miracle cure" online, nothing has worked for your hair. You want to finally be confident in your hair, and you want to smile when you see it in the mirror.
Nobody wants to deal with the negative effects that harsh chemicals have on how your hair looks and feels.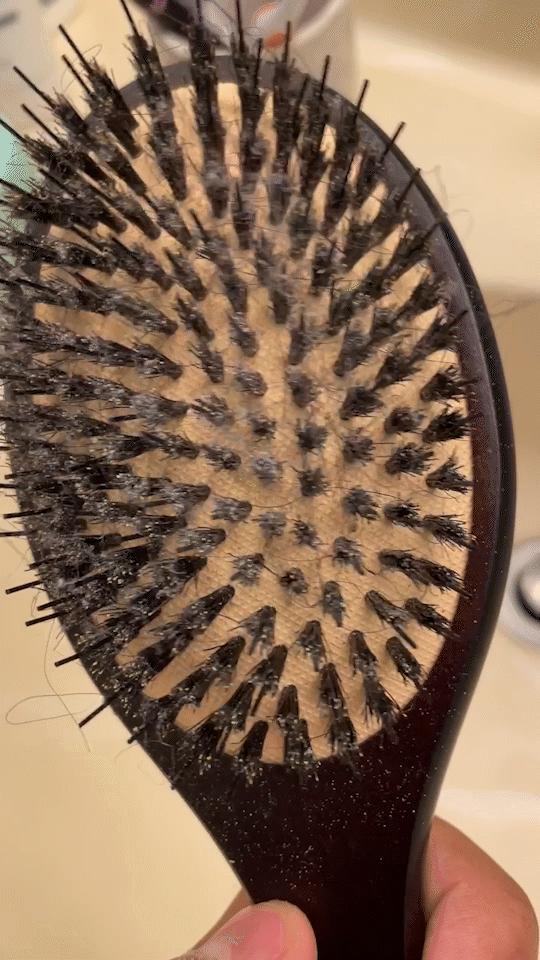 Feel beautiful in your hair again
The revolutionary No Shampoo Hair Brush provides a unique brushing experience. It has been shown to control oil and grease, get rid of dandruff, scalp buildup, itchiness, and smell!
It allows you to transition your hair fast, so you can be confident in your hair instead of embarrassed by it.
All you have to do is use it like a regular hair brush twice a day!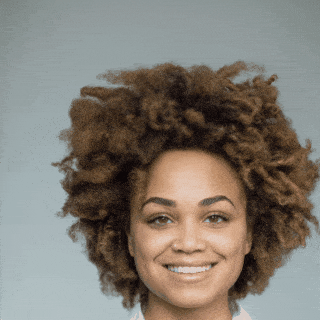 Detangle without yanking and screaming
Not only does the hairbrush help fix your hair naturally, it also detangles your hair without ripping it. So now, you can have your softest, shiniest, and bounciest hair ever!
With just 2 minutes a day of brushing, the No Shampoo Hairbrush is very easy to use. You can use it anywhere in the house or even on the go!
Save money on chemical B.S.
Don't use expensive stuff with chemicals for your hair! Instead, use the No Shampoo Hair Brush. It helps you make your hair less greasy and saves your money. Your hair doesn't like chemicals, so keep them away!
A true no-brainer for anyone wanting to get glorious, oil-free hair!
Results
Faster transition time. Usually takes 1-3 months
No more oily or greasy hair
No dandruff or flakes
No scalp buildup
Unbearable itchiness gone
No smelly hair
The best boar bristle brush in the world
We've made the best brush ever. High quality and high functionality. Most brushes tug and rip through hair. Ours glides through your hair to redistribute its natural oils. This helps get oil off your roots, making your hair less oily over time. 
Why tip-less bristles? They don't break and tangle your hair like tipped bristles do. They also exfoliate your scalp to get rid of any of your hair problems. Keep the oil, dandruff, itchiness, smell, and buildup away, all at the same time.
It's your magic wand for natural haircare.
Total 5 star reviews: 53
Total 4 star reviews: 3
Total 3 star reviews: 0
Total 2 star reviews: 0
Total 1 star reviews: 0
100%
would recommend these products
Product Quality
Rated 4.9 on a scale of 1 to 5
Effects on hair
Rated 4.8 on a scale of 1 to 5
Customer-uploaded media carousel. Press left and right arrows to navigate. Press space or enter to open more details.
Slide 1 selected
J

Reviewing

No Shampoo Hairbrush Reviews

Hair issues

Oily,

Itchy scalp,

Dandruff/flakes,

Brittle/damaged,

Buildup

Let's Start From the Beginning!

Let's start from the beginning! I've put off writing this review for a few weeks now so I could give a fully honest review. For years I have consistently had chunks and flakes peeling off my scalp, I always had oily hair if I missed one day of washing it. I tried every shampoo and conditioner on the market. Eventually, I stopped using conditioner at all and settled on a pricey custom shampoo and apple cider vinegar. While that worked it didn't fix the problems I was having, only masked them.

In June of 2023, I saw this "no-poo" trend on tik tok. I stumbled across Vayose and the no-shampoo brush. I thought "what the heck, what's the worse that could happen?" I definitely doubted this no shampoo method but I did my research and then ordered my first brush. I LOVED IT!

However, I loved the company more! Immediately after I received my brush I got emails of resources to help educate on this method. I was asked questions on how I liked it, what could be changed, etc. When I responded to these questions, I was heard and responded to. My original brush was amazing. However, I have very long, very thick hair. I felt as though the boar bristles weren't touching my hair as much as they could, I had to apply some extra pressure to get my roots brushed. Then brush 2.0 came out, of course I ordered it!

I didn't think this brush could get any better until I got the 2.0. When I brush my hair I can feel the difference in how the bristles are touching my hair. More importantly I can…

Product Quality

Rated 5.0 on a scale of 1 to 5

Effects on hair

Rated 5.0 on a scale of 1 to 5

AI

Alisa I.

Verified Reviewer

Reviewing

No Shampoo Hairbrush Reviews

Hair issues

Oily,

Buildup,

Dry

Amazing, quality brush!!

I purchased my brush a few months ago and started by brushing my hair from root to tip a few times a day. I have long, undyed, thick hair. I was very excited to be more minimalistic with my hair care routine as when I wash it it takes quite a while to wash, brush, dry etc.

I was washing my hair about every 4 days when I started with the brush but am now at only once a week!! It's awesome! My hair is so so healthy and doesn't get very oily like it used to! I highly recommend the brush and also Humza is super nice and responsive when you have a question!

Product Quality

Rated 5.0 on a scale of 1 to 5

Effects on hair

Rated 5.0 on a scale of 1 to 5

Reviewing

No Shampoo Hairbrush Reviews

Love this brush!!

This brush is amazing! I am a serial daily hair washer and have tried for years to train my hair out of it. With this brush I am at 4 days. Anyone who knows me is completely shocked. My hair is healthy and happy and not to mention this brush feels so great on your hair and scalp. I'm recommending to everyone I know!

Product Quality

Rated 5.0 on a scale of 1 to 5

Effects on hair

Rated 5.0 on a scale of 1 to 5

Alison C.

Verified Reviewer

Reviewing

No Shampoo Hairbrush Reviews

Hair issues

Itchy scalp,

Dandruff/flakes

Love this hairbrush!

I love this hairbrush. The bristles are thick enough to go through your hair, and leaves the scalp feeling clean, without scratching or leaving it tender. Trust me when I say buy it and try it for yourself!

Product Quality

Rated 5.0 on a scale of 1 to 5

Effects on hair

Rated 5.0 on a scale of 1 to 5

LO

Verified Buyer

Reviewing

The No Shampoo Hairbrush

EASY HACK FOR SENSITIVE SCALP

I just received my brush yesterday and on first use I was disappointed - the nylon bristles are SO SHARP that I was debating returning it. I wanted to stimulate blood flow to my scalp, not actually draw blood. First, I tried holding a lighter to the nylon bristle ends to round off the edges. That was tedious. Then I decided to try using a medium-grit nail file which I rubbed on the ends of the longer bristles in circles for a few minutes and VOILA - it's great now. I still get that nice scratchiness on my scalp from those bristles but it is tempered just enough to feel nice and not cause pain. VAYOSE - think about adding this step to your production (obviously use something better than a nail file, but you get it...) because it makes the product SO much more usable for the more tender-headed among us. As for the no-shampoo claim, I've struggled with oily hair most of my life and am a daily washer, I would love it if this brush helped with that. So far I haven't noticed significant redistribution of oils, but I will keep trying. If the brush allows me to shampoo less, I will most definitely update.

Vayose

I'm extremely sorry for your poor experience with us. I've refunded your order and also sent you a coupon code for any future orders to your email. We're going into production again today, and we're going to make sure the nylon bristles are softer (along with some other improvements and additions). Thank you for your feedback, you're actively helping us do our job better! - Humza, Founder of Vayose
Reviews Loaded
Reviews Added
Frequently asked questions
Can I use this if I still use shampoo?

Yes!

The brush is made to add days in between washes, whether you shampoo or not.

Even with shampoos, it might not feel like it does the job all the way. Feel beautiful and solve your hair problems naturally (like dandruff, scalp buildup, oil, smell, etc.)
How do I use it?

Here's a quick guide:

Start from your ends and work your way up to your roots. This prevents you from pulling on extremely tangled hair
Once you get to the roots, brush normally for 2 minutes (you're not gonna be able to stop because of how good it feels)
Run your hands through your hair to set it in place
Done!

Multiple video tutorials are included with your purchase for how to use the brush:

Daily for no shampoo results
For getting rid of oil/greasiness
For getting rid of dandruff, flakes, and smell
For getting rid of itchiness

How to use wide tooth comb:

You could use it to comb your ends if you have hair that gets easily tangled
You could use it to comb and section your hair while its wet

How to use the little rake to dry clean your brush:

You'll know you need to use this when there's a bunch of dust, hair, and build up on your brush, but you don't feel like deep cleaning it:

"Rake" in between the bristles, placing it on the top of the brush and pulling it all the way down to the bottom. While you do this, you should see dust and hair coming out
Pick out the dust and hair and toss it
Repeat as needed
Congrats! You just dry cleaned your brush
How do I clean the brush?

The brush needs to be cleaned regularly for best results

There are 2 ways to clean:

Dry cleaning (takes 15-30 seconds):

When the brush gets visibly dirty, use the included dry cleaner. This gets out all the hair, dust, and grime from your brush.

Deep cleaning (takes 5 minutes):

This type of cleaning is recommended to do once a week. You can deep clean it as often as you need.

Rinse off the brush with warm water
Choose a cleaner: Could be castile soap, dish soap, baking soda, or anything that cleans
Get a new toothbrush, put some of your cleaner on it, and brush your brush! If you need more cleaner, apply some directly to your hair brush as needed
Make sure you clean in between the bristles instead of over the bristles. Do this as best you can to prevent damaging the bristles
Rinse off the hair brush with warm water, and use the toothbrush (rinsed off) to get in the nooks and crannies that don't get rinsed off properly
Wipe the hair brush with a paper towel (or any towel) as much as you can
Let it air dry face down in a ventilated area
That's it! Your brush is clean.

If you're using it every day, we recommend to deep clean it at least once a week, and dry clean it whenever you see a ton of buildup in the brush.

With your purchase, we include a full video tutorial on how to clean the brush!
What is it made of?

Materials: Natural beechwood, nylon and boar bristles, rubber cushion

We use only the best materials we can get.
What are the shipping times?

Delivered in 3-5 days

We ship from our warehouse in Wilmington, Delaware. After you place your order, it'll be delivered in 3-5 days
Does this help with dandruff, oil, smell, and stuff like that?

Yes! The brush is designed to fix dandruff, scalp buildup, excess oil, smell, itchiness, dryness, and more.

We have included guides on how you can fix these problems with and without the brush, and best practices for these scalp issues in general.
What hair types does this work for?

All hair types and lengths!

Hair types: Straight, wavy, curly, kinky

Hair lengths: Short, medium, long
What's in the box?

1 Vayose No Shampoo Hairbrush
1 Wooden Wide Tooth Comb
1 Hairbrush Hair and Dust Cleaning Rake
34 guides, checklists, tutorials, recommendations, and lists to solve any no shampoo problem and on how to use the hairbrush for the best results
1 Handwritten note from the founder (yes, you're that special)
What if I don't like it?

We take great pride in delivering quality products. Try the No Shampoo Hairbrush for 60 days. If you don't love it, we'll refund your purchase in full. It's that simple.
Didn't find the answer you were looking for? Contact us by clicking here or emailing us directly at support@vayose.com. We email back within 24 hours :)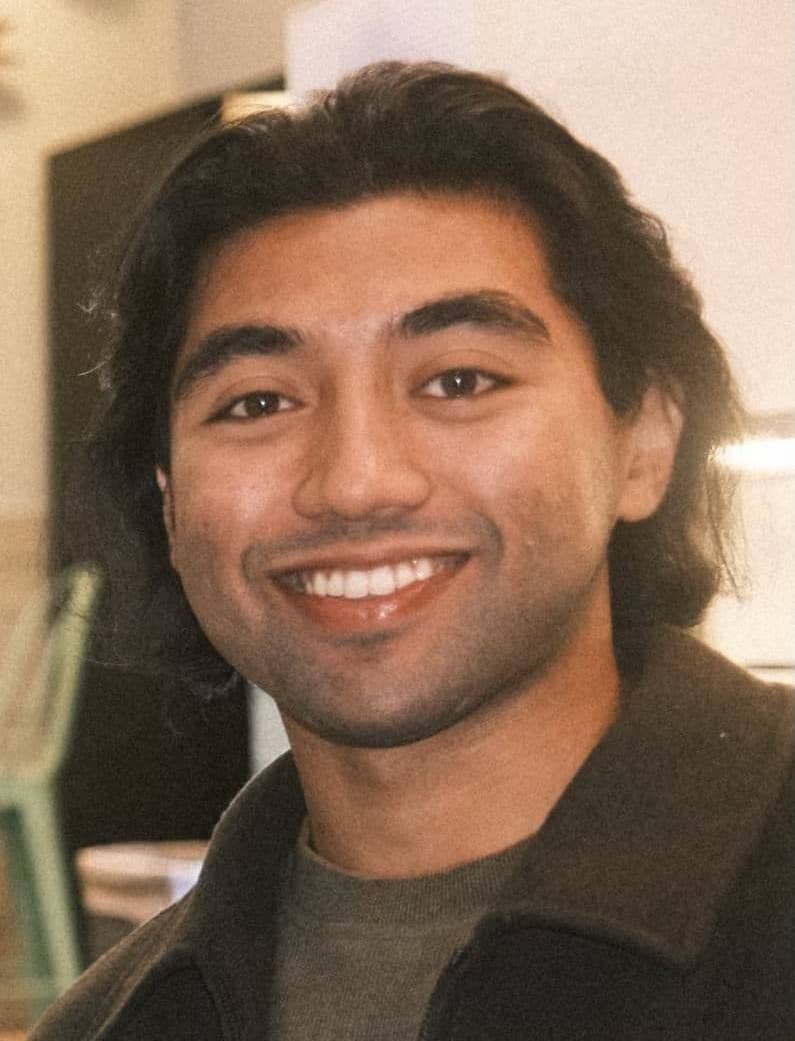 We're creating a world where chemical free living is easy
Our health matters. Everything around us is affecting how we look, how we feel, and how we live. It's harder than ever to live a toxin free life, and my vision for the brand is to make this the one-stop-shop for everything chemical free and non-toxic. Instead of pushing out "natural" versions of existing products, we focus on empowering you to live a healthier life by cutting out those harmful products like shampoo, moisturizers, deodorant and more. Join us on this fast and easy journey to a toxin-free lifestyle.
- Humza I, Founder at Vayose